Treat Yourself Well!
Our Fresh Market Cafe concept offers fresh, healthy, home-cooked meals that you can drive up and run with or come in, relax and enjoy.
We feature mouth-watering entrees like Chipotle Meatloaf, Pot Roast, Chicken 'N' Dumplins, Red Beans & Rice and more just like Grandma used to make. We also offer a variety of harvest fresh vegetables using stocks -- no grease, oil or butter -- to bring out their amazing flavor.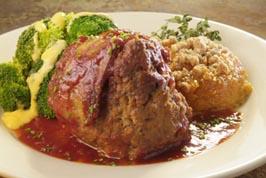 Our menu is set up so guests create their own plates by choosing from our selection of tasty meats, vegetables, breads and desserts. We are convenient for families on the go, and moms can rest easy knowing that it's a healthy meal for the kids.